MICRO-CEMENT IN THE INTERIOR - EVERYTHING YOU NEED TO KNOW
Micro-cement is a modern solution that is taking interiors by storm around the world, including Poland. It can be used to finish walls, floors, stairs and other surfaces with a thin layer of micro-cement. The result? Minimal, beautiful interior and clean surface without seams.
The trend toward micro-cement has grown together with the fashion for industrial style and loft arrangements. This type of finish has many advantages – the concrete mass can be coloured, shaped freely, it is resistant to moisture and other external influences and it is durable. What's more, a wall, floor or other surface finished with micro-cement looks designer and modern, making it the perfect backdrop for a wide variety of arrangements, including more traditional styles.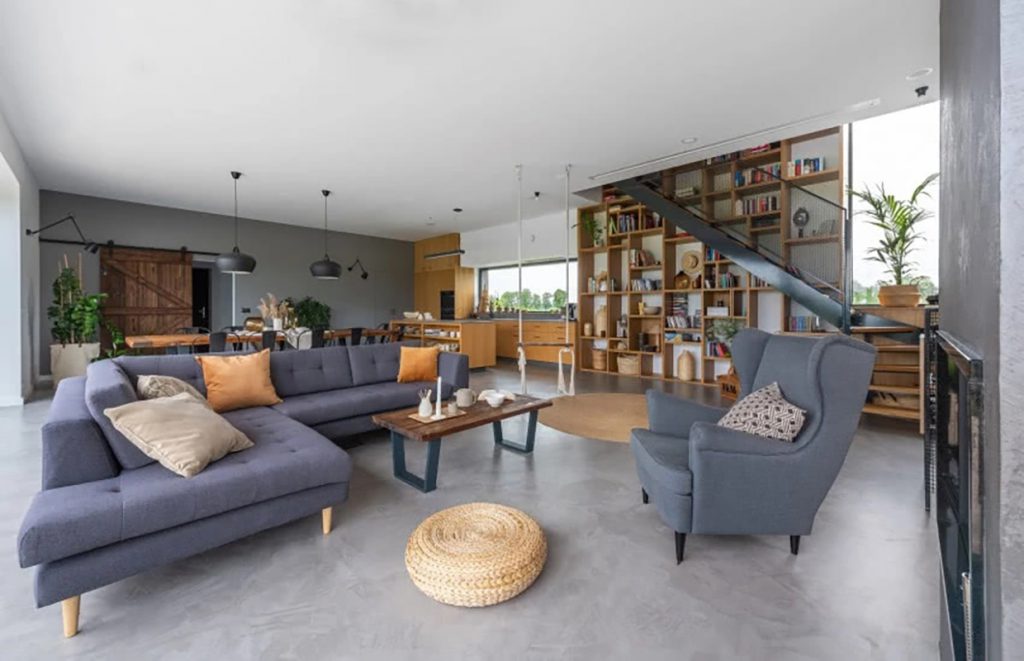 WHAT IS MICRO-CEMENT? WHAT IS THIS TYPE OF SURFACE FINISH?
Micro-cement — decorative mass
Micro-cement is a decorative mass which is a mixture of polymers, micro-cements and aggregates with various additives and pigments. The concrete mass can be coloured in any way – which is done directly on application by adding pigment to the ready-to-use mass.
What are the characteristics of micro-cement? The finished surface becomes hard and extremely resistant to scratches, abrasion, impacts, humidity, heat or even household chemicals. If you choose this type of floor or wall, you will get a uniform surface without seams and joints. It will therefore be easy to keep it clean.
What's more, micro-cement looks minimalist and modern in the interior. A designer floor or wall, smooth or textured, it's perfect for any application where you need a customized solution and the WOW effect!
Micro-cement loves, above all, extensive loft spaces and post-industrial inspiration, but it will also fit in with other styles, especially as concrete mass can be coloured in any colour.
Micro-cement in deep, saturated colours, such as navy-blue or emerald, is ideal for use in glamorous or modern interiors. In this arrangement it creates a great duo with an upholstered bed and elegant furniture. The realisation uses Futu MICROONE technology.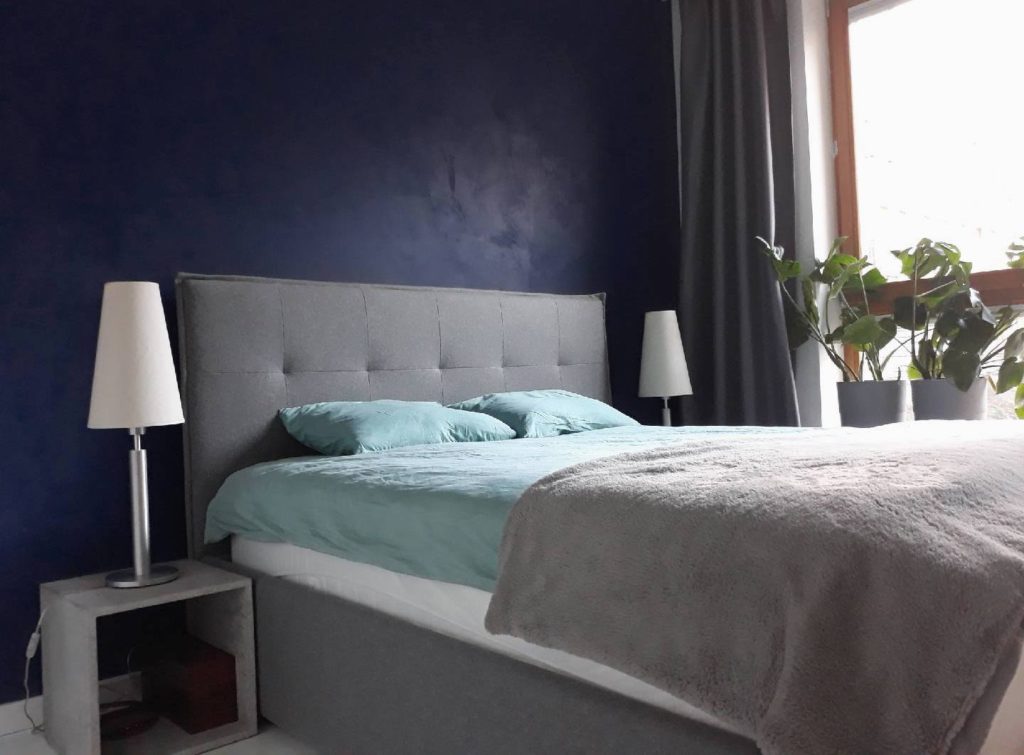 WHERE WILL MICRO-CEMENT WORK BEST?
Are you looking for a custom interior design? Are you tired of hackneyed solutions and do you need something else? Do you like a minimalist style of arrangement? Do you like post-factory spaces with raw concrete walls, cool colours and industrial decoration? If you answered "yes" to the questions above, you can be sure that micro-cement is the solution for you!
This type of surface finish is widely used today (including in our country), especially in commercial and public spaces: Offices, exhibition halls, shops, galleries and even industrial spaces. It stands out for its durability and decoration, so it is no wonder that commercial interior architects are so willing to use micro-cement.
But micro-cement is also ideal for residential interiors. Ideal for loft, industrial, minimalist and modern arrangements. You can use it to finish floors or walls, but also for less obvious applications: As a material for a kitchen worktop, on the wall above the worktop, on the outside of a bathtub or on a fireplace.
Micro-cement also looks good as a wall finish in a living room. In this arrangement, a white micro-cement wall looks great together with sofa in a bottle-green and in a slightly Nordic arrangement. Futu MICROONE micro-cement technology was used here.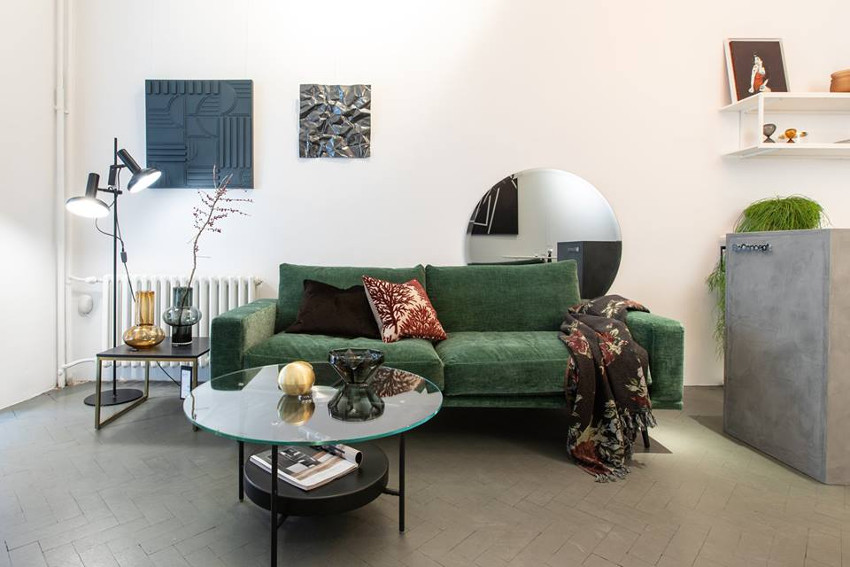 HOW IS MICRO-CEMENT APPLIED?
Several different layers of micro-cement are used to make decorative floors or wall cladding and other components.
In the Futu MICROONE wall-finishing system, the first is the so-called sealing layer, which is used to prime the substrate and even out the absorbency of heterogeneous surfaces and Futu kontakt, which is the finished mass of the high-quality resins and mineral fillers that are designed to connect the substrate to the appropriate structural layer.
The construction layer forms the polymer base for Futu MICROONE BASE micro-cement and the next top layer of micro-cement is directly placed on the sub-structure made from Futu MICROONE BASE (Futu MICROONE FINISH). The whole can be coloured in any colour, and then a sealing layer is used, consisting of a Futu PU finishing varnish and a primer under Futu PRIMER PU varnish.
Only when all of the layers have been laid, does the micro-cement wall or floor gain its extraordinary properties and modern, designer look.
FutuBeton micro-cement is a fashionable solution that works well not only in public spaces, but increasingly goes into modern houses and apartments!