DECORATIVE CONCRETE IN THE KITCHEN
Today's trends in interior design pay greater attention to the presence of textures in space, the original structures and the beauty of natural materials, highlighting the value of their raw finish. Raw materials once associated only with the outside have moved into the interior of buildings to complement or become the basis for stunning designs for all of the spaces in the home. Concrete is one of these materials. Architectural features used to be carefully covered with finishing materials, today they are exhibited and used as an exceptionally elegant and modern decorative solution. See some examples of concrete arrangements in the kitchen.
WHAT ABOUT THE WALL BETWEEN CABINETS?
When you decide to build a kitchen with a worktop and hanging cabinets, you should decide with what to cover the strip of wall between them. Rather than relying on typical solutions like ceramic tiles or paints, choose a concrete Futu MICROONE mass that gives you the freedom to create a surface structure – depending on the way of laying and sanding.
Micro-cement in the kitchen will create a coating with a fascinating texture that adds depth and character to the space. It is worth highlighting it with LED lighting. Soft light will bring out the beauty of unobvious 3D and a noble colour, such as deep bottle green. Note the interesting contrast used in this arrangement. The intense shade of micro-cement works perfectly with white kitchen furniture, while its uneven, fanciful texture harmonizes with smooth furniture fronts and worktop.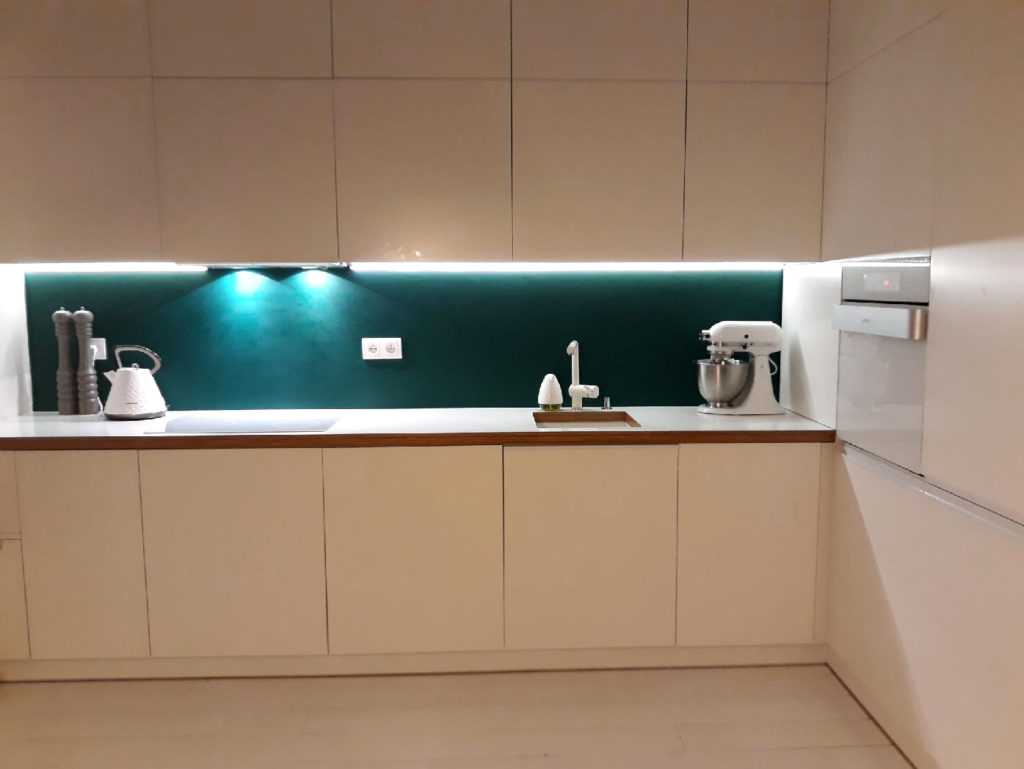 MODERN KITCHEN WITH CONCRETE… ON THE CEILING!
Modern arrangements require bold ideas. If you are thinking of introducing concrete into your kitchen, think about a rather bold concept to cover the ceiling with it. This is ideal for kitchens that open onto living and dining rooms where a uniform floor and ceiling finish across the width of the room combines three separate function zones into one. If you like the idea of a concrete ceiling, choose the grey Futu MICROONE decorative mass. Limit the whole pallet of interior colours to whites, greys and blacks.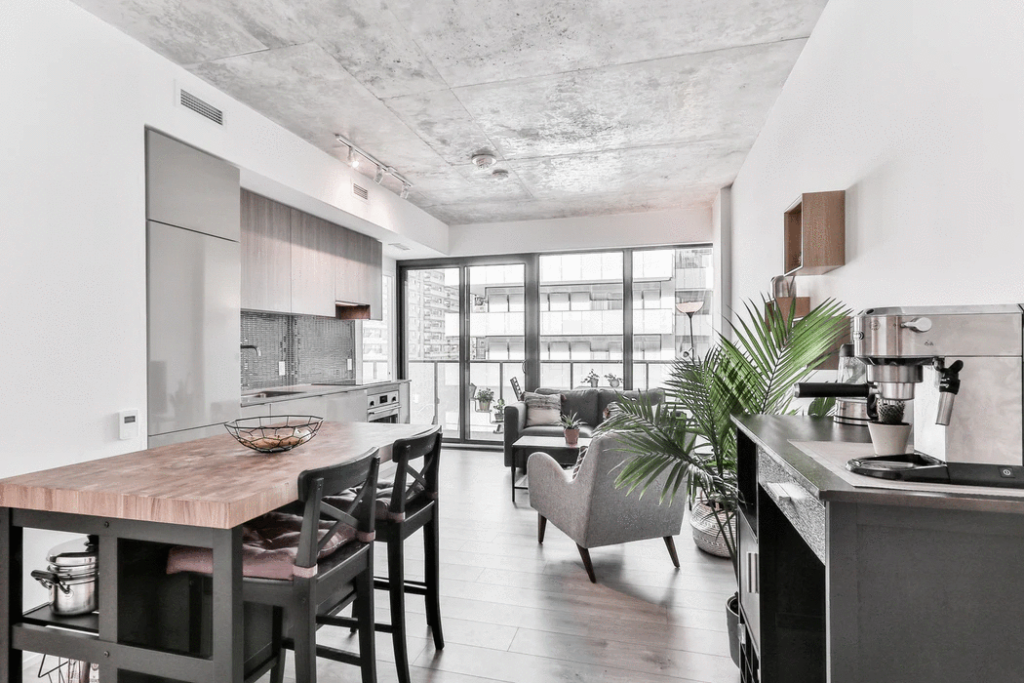 Add only bright natural wood components and live green plants that will visually warm the interior. Apply minimalism. Choose simple geometric forms and furnishings made of natural materials. You can't do without a massive wood table top with visible knots, fibres and grains, make sure you have glass accessories and a sofa and armchair of high quality wool. Large shiny surfaces, steel fittings and chrome accents will underline the contemporary elegance of the design.
WHITE KITCHEN WITH CONCRETE ON THE FLOOR
Those who love minimalism will find beauty in a grey concrete floor in a white kitchen. The presence of white on the ceiling and walls, introduced in the form of kitchen furniture and an island, as well as long smooth translucent curtains, broken only by the warm colour of wood and lighting, requires a simple but sophisticated accompaniment. The perfect company will be a grey concrete floor, an elegant ultra-original material with an interesting texture.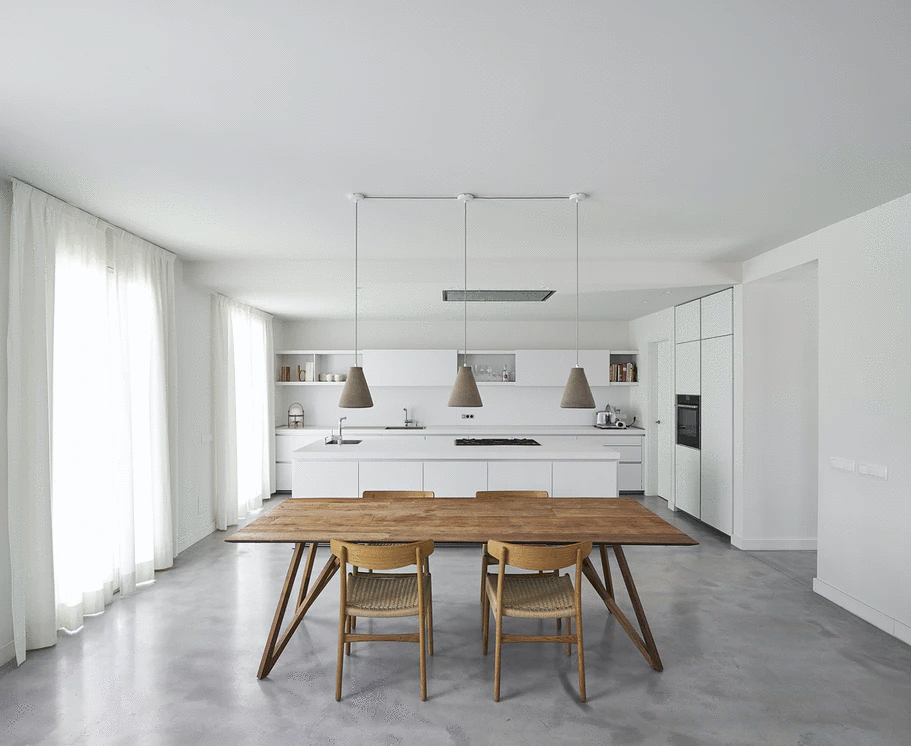 This is the surface you can make with the Futu MICROTWO, which creates a durable, abrasion-resistant and dustproof, smooth, thin-layer mineral floor about 2-3 mm thick. During processing, a surface with a heterogeneous individual effect with elements of shading can be obtained. The use of liquid pigment pastes gives an unlimited colour palette.
Concrete in the kitchen is not only highly decorative and attractive but also very practical. It is properly protected against grease stains and exposure to steam, water and other contaminants, and is easy to keep clean.